Land Marks

Myeongsoo Kim

11–09–2022 to 01–21–2023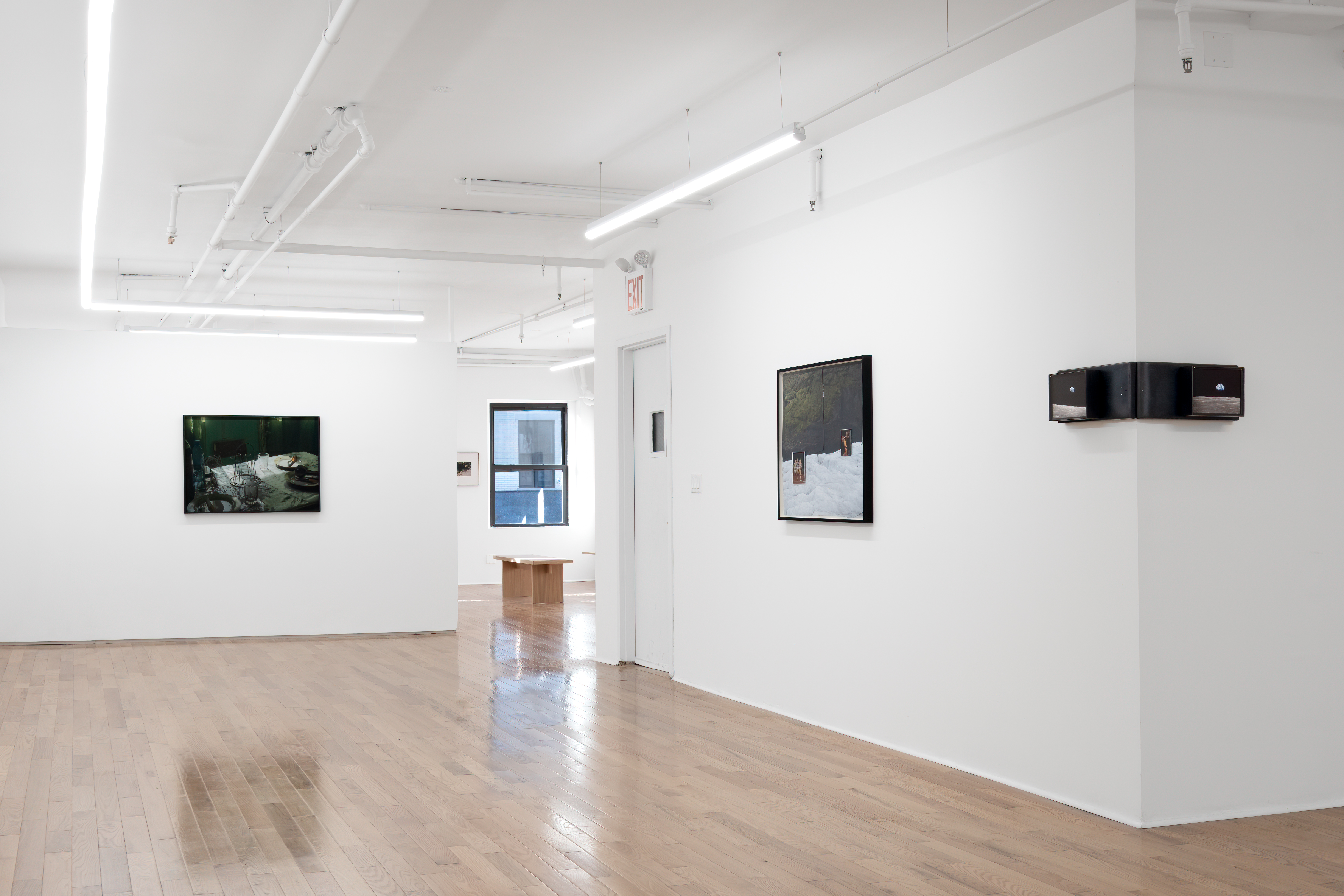 island is pleased to present a solo show of new works by Myeongsoo Kim, Land Marks. The title suggests a cartographic instinct to the work; the way maps were originally devised as tools for navigation and conquest or the more contemporary version where seemingly no area is left unmarked by Google's project to make visible every square inch of earth.

Kim examines the limits of photography as an infinite index of the land. Measurability in this context becomes a subjective act, distances reduced to the space between the work and the viewer. An accidental image of a night sky that Kim took on his camera takes on the guise of an amateur UFO snapshot, while one corner of the gallery is framed by the first NASA pictures of Earth from the moon, altered by Kim to form a three dimensional panel. The two contrasting works seem to ponder deep seated questions about our current image-economy: How do images find us? Is it by chance or by large organizational coercion? Are we part of a system that generates these elliptical images or is there room for intimacy?

Some of the works in the show resemble dioramas or biospheres with layers of photographic material, shadows and crevices rupturing their previously immaculate surfaces. The fragile power of the photograph as fetish object is severed.

Postcards from the 1988 Summer Olympics in South Korea continue to appear in Kim's work as he mines the event as a type of punctum. These keepsakes Kim has held onto signify a time when South Korea was becoming a larger global power and emulating the romanticized West while doing so. The images from the postcards are dissected with Kim's scalpel and removed from their intended purpose of promoting an idealized cultural legacy. Image becomes object as Kim fixates on the gazes of the spectators in the background or the straining muscles of the athletes, embedding them within other images and framing them in thick sculptural materials.

Kim was trained as an architect before his move to the US in 2002. It partly explains his affinity for considering the boundaries between natural and man-made environments. Most of the photographs in "land marks" were made on the islands of Iceland and Madeira, patches of land, ocean and sky which are largely untouched and unobserved. Waterfalls become kinetic faucets in Kim's pieces, marking time in the inverted way a black hole absorbs it. When Kim transforms a photograph of a patch of land into a sculptural relief through detailed layers, the process is not dissimilar to the way Artificial Intelligence platforms like Stable Diffusion use singular starting points to generate endless repetitive threads of images. Kim seems to ponder our legacy as a species in this new body of work; our footprint, our gaze touching every corner of this planet and yet in some far off invisible places, only the camera can extend our reach.

Myeongsoo Kim (born 1980, Korea) received his BFA in Sculpture + Extended Media from Virginia Commonwealth University in 2009, and his MFA in Sculpture from Yale University in 2011. Most recently, he participated in the 2019 BRIC Biennial at BRIC in Brooklyn, NY, and the Brave New World Photo Festival at the Seoul Museum of Art in Seoul, Korea. His work has been exhibited across the United States, including a solo show at CUE Foundation in 2020, a two person show at Below Grand in 2021 and a solo show at YEH art gallery at St. John's University in 2022.